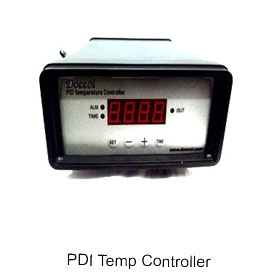 PID temperature controller for small animal surgery
Doccol's plug-and-play PID temperature controller was specially designed for controlling rodent body temperature using electric heating pad during in vivo surgery. Using PID technology, the controller is able to maintain a steady setpoint of temperature with minimal fluctuation (+/- 0.1 degree C), and is ideal for in vivo small animal surgery. The temperature proble included can monitor rectal temperature for both rats and mice and serve as in vivo feedback for precise temperature control. Operation of this temperature control system is extremely easy. An operational instruction and user's manual will be provided with the package, and the user manual is also available to download from Doccol website.


Specification:
Input voltage: 100 to 240 VAC 50 /60 Hz.
Output voltage: Same as the input.
Maximum Current: 15A.
Controller Mode: PID, PI, PD or P.
Output switching device: Built-in optically isolated solid state relay with zero voltage crossing switching.
Sensor tip dimensions: Beaded head diameter 3 mm, shaft diameter 1.5 mm, shaft length 3 cm.
Sensor cable length: 4.92 ft (1.5 m).
Timer range: 0.1 to 99.9 hours. It can be turned off by user.
Temperature resolution: 0.1 degree C.
Dimension: 6 x 3 x 8.3 inch (155x80x210 mm) WxHxD.
Net Weight: 3.2 lb (1.5 kg) without power cord.


Operational Instruction: Download
Product manula: Download

The product is for lab research use only (RUO). Not for Human Use.