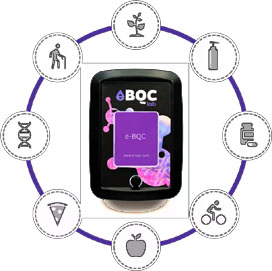 Total Antioxidant Capacity Determination Device
e-BQC is a portable device, patent pending, based on electrochemistry, designed to measure, in a direct way, the antioxidant capacity of liquid samples.
The result is obtained in less than a minute and with only one drop of sample.
By means of disposable e-BQCstrips, is able to differentiate between different types of antioxidants, from the weakest ones to the strongest ones.


Portability: Portable device for a quick and easy measurement anywhere.
Ease of use: No specialized technical personnel is required.
Accuracy: Two values (fast and slow antioxidants).
Simplicity: No laboratory is needed. You only need one device for all your measurements.
Quickness: The result is obtained in less than a minute and with a single drop of sample.
e-BQC device is based on the most powerful analytical technique: electrochemistry. The device measures the resistance of the sample to be oxidized, which is translated to antioxidant capacity. In electrochemistry, an antioxidant is a substance that is oxidized at low potentials, and so protects other biomolecules that oxidize at higher potentials: lipids, proteins and DNA.
With only a drop of sample and in less than a minute, a quick and reliable measurement of the sample's antioxidant capacity, allowing to differentiate between fast and slow acting antioxidants (Q1 and Q2). This differentiation (Q1 and Q2) is very valuable, allowing us to weigh the measurements and obtain a more complete assessment of the total antioxidant capacity.
Antioxidant Capacity Determination
How does the e-BQC measure?
It oxidizes the sample by applying a variable potential. A variable voltage is applied to the strip to "activate" the antioxidants, so they cede the electrons. Electrons are released and detected as a current at the electrode.
What do the results mean?
The results are given as the total charge (uC) of the electrons that are able to be donated to a free radical to neutralize it in the sample.
Research Laboratories:
Traditional methods of TAC measurement are laboratory tests. These are based on the generation of a free radical type and the ability of the molecules present in the sample to eliminate these radicals. These assays are hardly comparable among them.
How does e-BQC lab work?
It is a small device that works with low cost fungible e-BQCstrips.
e-BQC is very easy to use: put the strip in the slot, dispense the drop of sample and click the button to measure.
Why should I use e-BQC lab?
Two values (fast and slow antioxidants)
Portable device to make a quick and easy measure anywhere. The result is obtained in less than a minute what saves a lot of time. In less than a minute, with only a drop, your results will be available.
You will only need one device for all your antioxidant capacity measurements.
Any liquid sample: biological samples, drinks and beverages.
Note: The product is for lab research use only (RUO). Not for Human Use.